I always love going back to Utah for a visit. There is nothing like the country air, cool summer evenings, and love all around. We had such a fun time seeing everyone and just relaxing! While we were in Utah, Nate was in Honduras doing some humanitarian work in a dental clinic there. More on that at the bottom of the post:
One of the first nights we were there, I went with my sister and her family to BYU to try out my camera. I still don't really know what I'm doing, but we got a few cute pictures:
Hayden always manages to get into everything he shouldn't. Here he found my Dad's sweaty hat after a long day of work and put it on. It was pretty cute though!
A few days into the trip, my Mom,
Ali S
. and I all headed up to Idaho to see Nate's family for a few day. They have a little golf putting green in their back yard that was a HIT! I seriously couldn't get Hayden off of it. He loved to put the golf about an inch away from the hole and knock it in. Every time it went in, I would hear the cutest squeal from him. He loved it! The trampoline, poodles, and merry-go-round were also highlights for him.
Mimi and Hayden on the carousel in Rexburg.

Now, what's with this picture you may ask? Well, here's the story: Sunday night we were over at my sister's house and Hayden took a little (well, kind of big) spill down the stairs. He really wants to be a big boy and go down the stairs forward facing, but he's not the greatest yet. If I'm holding his hand he does great, but this time, he was holding his 3 year old cousin Elsie's hand and she obviously couldn't keep him upright. Long story short, he got a giant goose egg on his forehead and a cut on his eye that needed 3 stitches. Lovely! I was kind of freaking out because nothing like this had ever happened before and I couldn't talk to Nate because he was in Honduras. In the end we took him to an InstaCare and held him down (literally) while the doctor put the stitches in. It was quite a night!
All of the girlies in my family.

One other big highlight while we were home was the birth of little Kael Luke. He is the smoochiest thing you have ever seen and we are so excited for Jed and Christina!
We also went to one of my favorite childhood places while we were there, Cherry Hill. It was so fun to relive my childhood on the crazy tube ride and share it with Hayden and off of the other kiddies.
Proof of the giant goose egg!

The surprise of the trip came when Nate had to leave Honduras early because of some crazy politics there and he was able to finagle his way to Utah for the rest of our trip. It was so fun to see him and know that he was safe and sound! Because he was there, we made another trip up to Idaho just in time for the 4th of July. We had such a fun time at the Walker's post-parade BBQ and Hayden loved every minute of it. I have never seen him so filthy in my whole life! Here he is with Grandma Great Clawson and enjoying the basketball court:

The whole George family was together also and Hayden sure loves his cousins. He and Halle are only a couple of months apart and were so cute together. Here are Remi and Crew and Brynlee and Halle Rae Rae on the 4th:

Our last night in Utah, we took advantage of the beautiful weather and played outside all night. My dad showed up on the horse to take Hayden for his first horse ride. I hope he turns into a cowboy someday! I thought he would love it, but he was a bit nervous. At least it makes for a cute picture: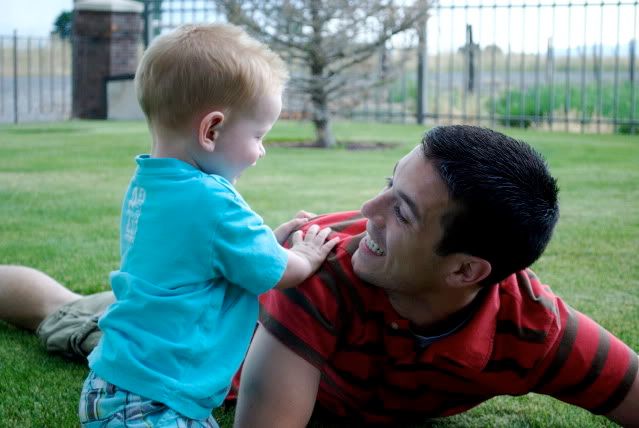 My little smooch
So Nate was able to spend a week in Honduras providing dental care to the people. He had a great experience, and they were able to get a lot of work done in a short time. He said that every morning they would arrive at the clinic and there would be lines of people waiting for care. The kids would come back every day, usually just to watch with curiosity.
Because Nate was one of the few students that spoke Spanish, he was interviewed by a local news station.
On a day off he was able to visit the Mayan ruins of Copan. He saw some great history, but the highlight was when they found out about the Ziplines! Nate said that this was such a rush, and after viewing this video I can understand why. There were 16 cables that took them through the mountains, and one cable was almost a mile long! Jealousy!